Tributes to Tenby's 'ultimate gentleman' and businessman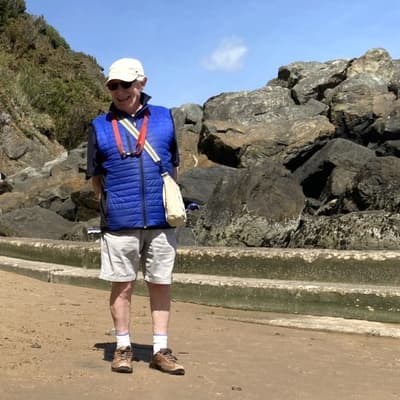 The funeral will take place next week of one of Tenby's best known and loved businessmen, David Hughes, who died peacefully on Friday April 15 at his home in Paxton Court, aged 83.
After nearly five decades at the helm of the city's popular department store, TP Hughes, David passed the reins to the fourth generation of his family in 2003.
Educated at Malvern College in Worcestershire and Shadyside Academy in Pittsburgh, Pennsylvania, David was called up for national service on his return from America in December 1957.
He was commissioned as a second lieutenant in the Welch Regiment, serving in Cyprus and North Africa, before embarking on his retail career, after being demobilized in December 1959. He worked for two years as a trainee in management at Harrods, then joined his father Sydney and his brother. Tom in the family business in December 1961.
Prior to his retirement in 2003, David's contribution to retail had been nationally recognized from time to time through his appointment as President of the National Association of Retail Furnishers, UK Representative to the European Federation of furniture retailers, President of the British Shops and Stores Association, Liveryman of the Worshipful Company of Furniture Makers and Freeman of the City of London.
Outside of business, he had been four-time chairman of the City Chamber of Commerce, past chairman and captain of Tenby Golf Club, past chairman of Tenby Round Table and past chairman of the Country South West Region of Wales, as well as past master of Tenby. Masonic Lodge.
Coming to the end of his 'professional life' of some 46 years, he attributed his success at Tenby to its 'wonderful staff who have mostly been like an extension of my own family'.
At last week's meeting of Tenby Town Council, Mayor Ms Sam Skyrme-Blackhall told fellow members she was saddened to hear of David's passing.
She said most know David, as his family business has been in Tenby High Street for over 114 years. The mayor said she had known him personally all her life and was always greeted with a smile when she walked their dogs.
She remarked that he was the "ultimate gentleman" and she was sure the members would join her in sending their condolences to David's family.
David is survived by his wife Dawn, his sister Mary, his children Tim, Chris and Anna, his grandchildren Henry, Oliver, Tessa, Archie, Dan, Olly and Joe, his great-grandchild Finn.
The funeral service will take place on Tuesday May 10 at St Marys Church, Tenby at 11.00am, followed by a private cremation at Parc Gwyn Crematorium, Narberth at 12.15pm.
There will be family flowers only, donations if desired can be made payable to "The Paul Sartori Foundation" c/o Funeral Directors W & MJ Rossiter & Sons Ltd, The Old Rectory, The Norton , Tenby, SA70 8AB or Landsker House, 21 Station Road, Narberth, SA67 7DR.