The local businessman's horse at the Queen's Plate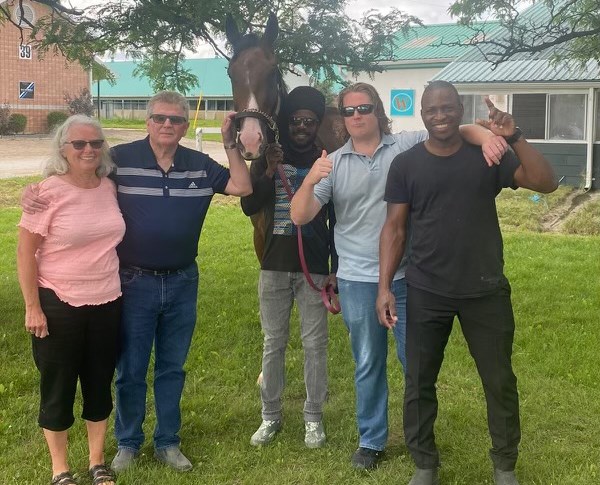 "I will be sitting in my suite at the Queen's Plate with my fingers crossed, breathing deeply"
Jim Bruce hopes to have a million reasons to celebrate later this month.
The local businessman who owns LaHuerta Imports and Average Joe's Restaurant in North Bay could get rich as his horse, AVOMAN, won the Plate Trial last Sunday at Woodbine Racecourse in Toronto.
This allows the three-year-old Dark Bay or Brown Gelding coached by Don McRae and coached by Antonio Gallardo to race for the million dollar purse on August 22 at the Queen's Plate.
"It's been very interesting," said Bruce, who is also the owner and president of the Powassan Voodoos Junior A hockey team.
"The horse is three years old, he won a Stakes race last year. On his first trip he raced against older horses and finished third and then we put him in the plate test which took place last Sunday and he finished first. "
See linked: Winner of President Voodoos on the ice and on the racetrack
Sunday's victory brings Avoman's purse total to $ 137,314 since last summer and just $ 80,278 in 2021.
"Horses are sorted by speed, called 'beyer's speed', so his 'beyer speed' is 84, which currently places him in the top four horses for the Queen's Plate."
Bruce, whose son Graeme co-owns Avoman, named the horse after an avocado, which is the main imported fruit for LaHuerta Imports.
Bruce says it's hard to describe the feeling when he saw Avoman finish first last week.
"It was breathtaking," he said.
"It was an amazing experience. One minute and fifty seconds and your adrenaline just goes up and you go from a very high level to a very low level because you are exhausted after 1:52 of a second."
Bruce says the key to winning the Queen's Plate will be a good start.
"He has to come out of the clean door and he has to position himself close to the rails to be able to save land and as they go down he should have gasoline in the tank to give him a boost to get him to the finish line first, "Bruce said.
So what will Jim Bruce do on August 22?
"I'll be sitting in my suite at Queen's Plate with my fingers crossed, breathing deeply."