Rebecca Kleefisch is the right choice for Governor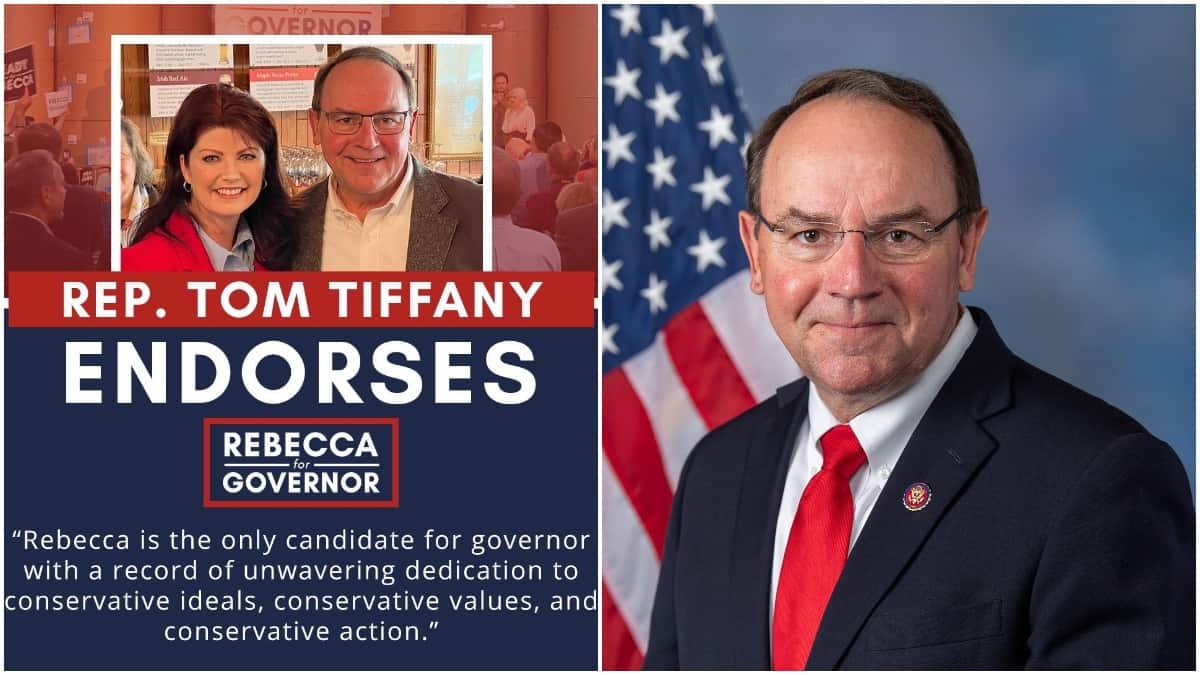 By U.S. Representative Tom Tiffany
In 2010, our state's economic future was deeply troubling. Red tape and regulations crippled business. The taxes were too high. Wisconsinans were losing their jobs and our state was running multi-billion dollar deficits. It was clear that our Wisconsin way of life and our families' ability to thrive was under attack, so I stepped forward and ran for public office.
It was not easy to transform our state. Democrats fled the state, conservatives faced recall attempts, some made paramilitary-style raids on their homes, and our Capitol saw protests like never before. But I was not alone in this fight. Rebecca Kleefisch and Scott Walker stood shoulder to shoulder with me and my fellow Republicans in the Legislature to pass some of the boldest conservative reforms our state has ever seen.
As Lieutenant Governor, Rebecca worked alongside Governor Walker and the Republican Legislature to cut $13 billion in taxes and get more Wisconsinans working than ever before. Together, we banned late-term abortions and enacted pro-2nd Amendment policies like concealed carry and the Castle Doctrine. We repealed existing wage laws, passed right-to-work legislation, and implemented drug testing and work requirements for welfare programs. We implemented voter identification, voter residency requirements, and other ballot security measures that made voting easy and hard to cheat. Thanks to these conservative reforms, we were able to pull Wisconsin out of the Great Recession and into an era of prosperity.
Today is a different story here in our state. Under Governor Tony Evers, Wisconsin once again faces a troubling future. The cost of living and violent crime are on the rise. The size of government continues to grow while the quality of the services it provides continues to decline.
Our individual freedoms and the chance for a prosperous future for our children are threatened. Wisconsin is on a dangerous path and it's time for a change. Wisconsin needs someone who has a proven track record of providing effective leadership and working to achieve real results for our communities. That person is Rebecca Kleefisch.
I endorse Rebecca for governor because she is a proven leader who I know will not compromise on our conservative values ​​when the going gets tough. Rebecca and I share the values ​​of a working-class upbringing, as parents of young girls and small business owners who care about our communities.
As a citizen legislator, my message to voters has always been simple. It's that you can count on me because my words are backed by actions and a record of never compromising on our shared values. I know Rebecca's lyrics are too. Rebecca is the only gubernatorial candidate with a record of unwavering dedication to conservative ideals, conservative values ​​and conservative action. I know she is the candidate with the fire and the will to advance the next era of great conservative reform in Wisconsin.
Governor Tony Evers has failed our state. But I know that the people of Wisconsin can always count on Rebecca to protect our communities, protect unborn children and protect our vote. More importantly, we can be sure that Rebecca will always put Wisconsin first. Rebecca is a consistent and proven conservative who has helped Wisconsin through tough times before. I know she can do it again. That's why I endorse Rebecca for governor and urge others to support her.
candidacy.
U.S. Representative Tom Tiffany represents Wisconsin's 7th congressional district.