Last plot of land owned by jailed businessman Zachary sold for $8.7m | Company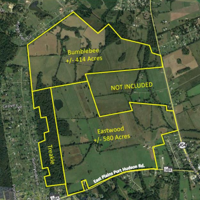 A 1,100-acre undeveloped piece of land near the intersection of Plains-Port Hudson Road and La. 964 that belonged to Zachary's former businessman Mike Worley was sold for $8.7 million.
LJG Land Company LLC and Ascension Commerce Center LLC, both of which are controlled by LJ Grezaffi of New Roads, purchased the land in an agreement that was filed Thursday with the East Baton Rouge clerk's office.
Grezaffi bought the property as an investment, said Beau Box, of Beau Box Real Estate, which marketed the land.
It was the last parcel of land owned by Worley, who filed for Chapter 11 bankruptcy protection in January 2018. Worley, the former CEO of Worley Catastrophe Response, a disaster relief firm , was sentenced to 12 years in federal prison for fraud in October. 2020.
Worley admitted to obtaining more than $50 million from banks and private equity firms by submitting multiple fake and fraudulent loan applications on behalf of himself and his businesses.
Worley obtained more than $27 million in new loans from federally insured banks between 2014 and 2018, using materially fraudulent claims. He also secured at least another $13 million from private equity firms in Louisiana and Texas through the same means.
Throughout his bank and wire fraud schemes, Worley inflated his assets, understated and omitted his debts and misrepresented his income, federal prosecutors said.
Worley and the businesses he controlled defaulted on some of the loans from banks and private lenders, causing them to suffer financial losses of $15 million. He was ordered to repay nearly $15.8 million to his victims.