International businessman to gift Davido with rare coins worth millions of naira for donating 251 million naira to orphans Nigeria news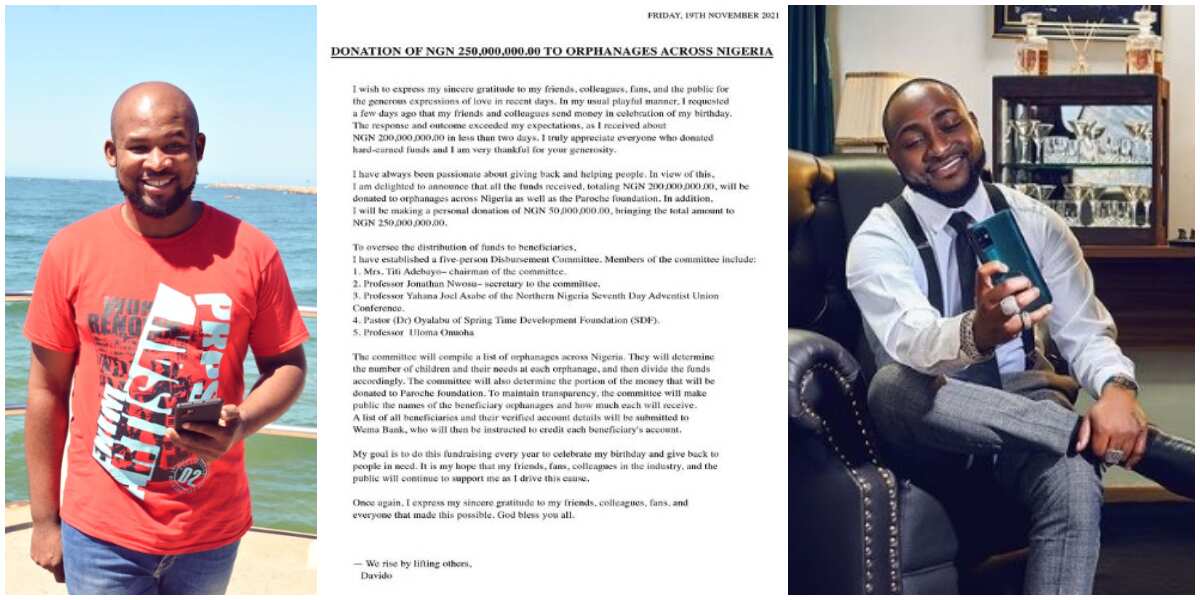 Nigerian singer Davido's 251million naira donation to orphanages across the country continued to earn him praise from all angles and caught the attention of a businessman
International businessman identified as Charles Awuzie wants to appreciate singer with rare coins worth millions of naira
Charles, a member of the Forbes Business Council, described the singer as Africa's greatest musician.
Since surprisingly deciding to donate all of the 201 million Naira he received from his online appeal to orphanages across the country, Nigerian singer Davido has received worldwide acclaim from figures of all walks of life.
The singer had in fact donated a total of 251 million naira, adding to it 50 million naira from his personal funds, a move which won him praise from former Nigerian vice-president Atiku Abubakar.
Don't let distance be an obstacle, think of orphans in the north when you shell out your N250m: the group urges Davido
Businessman hailed Davido as Africa's greatest musician
An international businessman, Charles Awuzie, also praised the singer's kind gesture describing him as Africa's greatest musician.
In a Facebook post from an aide to Nigerian Vice President Maria Ude Nwachi, Charles offered to give the singer his pieces worth millions of naira.
Each of the coins is expected to be worth a dollar over the next year
The coin named Transhuman Coin, according to Charles, will have a value of $ 1 (N410) per coin if held during the following year.
Charles, a member of the Forbes Business Council, asked for help delivering the gift of coins to the Nigerian-American singer.
He prayed that Africa would have more big sons like Davido.
Social networks react
Emmanuel Iwuegbu said:
"That's fine my brother Charles Awuzie. It is high time that Africa started exploring Blockchain technology by investing in cryptocurrency. I buy your idea.
I will personally prevent it: Davido responds to fan who expressed concern that orphanages will misappropriate his $ 250 million donation
"In addition, all the names of children in orphanages can be compiled, with the aim of opening a cryptocurrency wallet for each of them and tokens of this type should be credited for each. With that in a few years. , each of the children do not have to worry about funds for higher education and even higher education. "
Asere Tobi noted:
"It's a great idea, but a more volatile gift.
"Let's welcome the promotion of Nigeria coins, if the developers are devoid of greed and theft. "
Richard Anachuna wrote:
"Davido has a big heart. I pity all those jealous baba to cross them ….
"But I'm very sad, maybe that's why not do it while he came to do it though?
"No wait for people to go read Dem several times or always go and understand, nai I'm going to write now"
Go get work: Fans react as Calabar pastor says Davido won't make Heaven if he doesn't pay N201m's tithe
Victor Chidi Okafor said:
"Dr Charles Dalu, this wonderful intelligent, thank you very much for honoring Davido.
"Dr. ur's mentees are happy that you are our mentor. "
CNN salutes Davido for his donations of N251 million
During this time, Legit.ng previously reported that CNN had praised Davido for his huge donations to orphanages.
CNN in its development report wrote:
Nigerian-American musician Davido announced he would donate over $ 600,000 to orphanages across Nigeria, after hosting an impromptu online appeal that initially aroused the amusement and confusion of his fans. . "
For many people, this was done by American society in an effort to share the glory of the singer's good deeds with Nigeria.
Source: legitimate Nigeria