Hurricane Ian: Sharp warning from Florida Governor Ron DeSantis to looters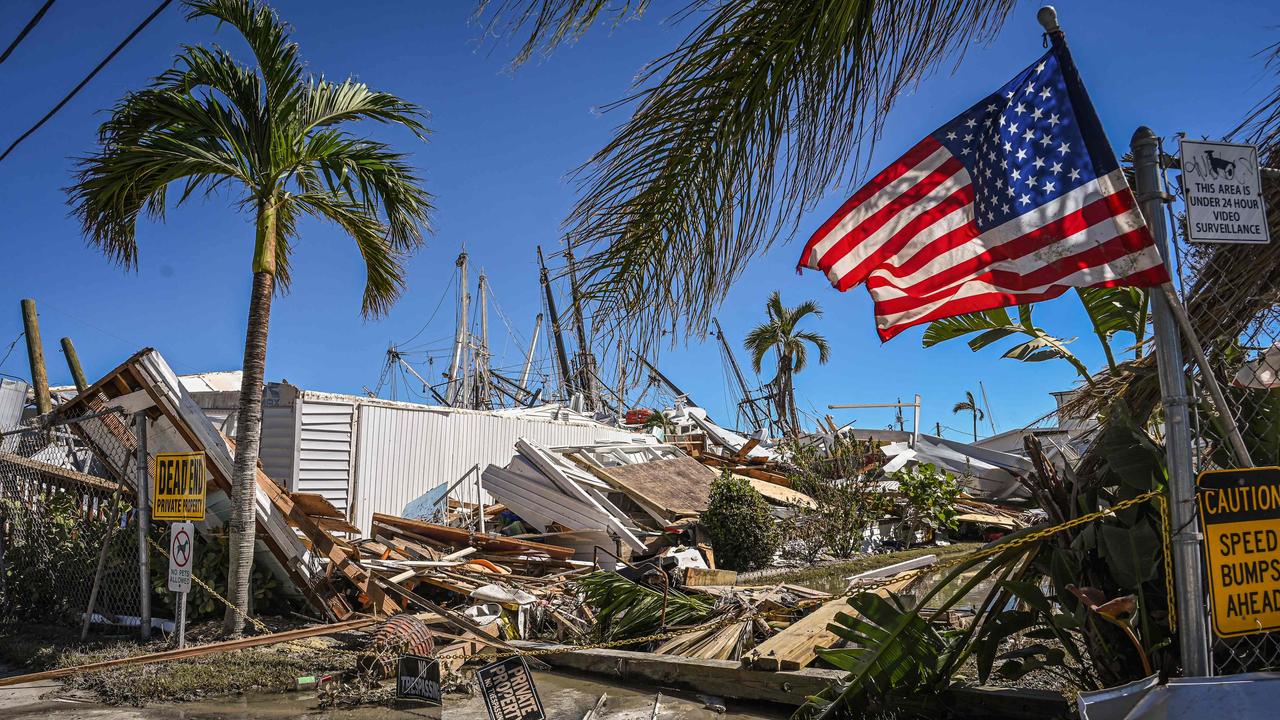 Florida Governor Ron DeSantis has issued a warning to anyone looking to profit from the chaos caused by Hurricane Ian on the West Coast of the United States.
"Don't even think about looting. Don't even think about taking advantage of people in this vulnerable situation. And so local law enforcement is involved in monitoring that," he told a press conference on Friday local time. New York Post reported.
"You may have people you know bringing boats to some of these islands and trying to ransack people's homes. I can tell you that in the state of Florida, you never know what might be hiding behind someone's house, and I wouldn't want to risk that if I were you, since we're a state in the second amendment," he added.
The Second Amendment protects the right to own and bear arms.
The governor said at one point he saw a sign about a closed business in Punta Gorda, Florida. which only said "you loot, we shoot," Florida Politics reported.
There have been sporadic reports of looting in some of the hardest hit areas of the state.
In Fort Myers, cops arrested five young looters. Another man was arrested for burglary and criminal mischief in Levy County, WCJB20 reported.
On Friday, Lee County Sheriff Carmine Marceno echoed DeSantis, offering a stern warning as Hurricane Ian ravaged his jurisdiction.
"For all those individuals who think they're going to go out there and loot or prey on people during this horrible event — you better think twice," Marceno said. "When I say zero tolerance, zero tolerance means we will hunt you down, hunt you down and you will go to jail. If you're lucky."
Six people swept away at sea by a "monstrous" wave
Six people have been taken to hospital with 'minor injuries' after a massive wave in Miami Beach swept them off the trail.
While South Florida has been spared major impacts from the destructive weather system – which made landfall in South Carolina again on Friday afternoon local time – the king tides, which are pushing sea levels by a foot or two higher than normal during new and full moons are expected in the coming days.
Social media users shared footage of the "monster" swell crashing onto a boardwalk, swiping bikes, beach furniture and people with it.
City spokeswoman Melissa Berthier said two men and four women were rushed to hospital after being hit by the wave around 10:45 a.m. near South Pointe Park, and the area was closed. until further notice.
Broadcast more environmental news with Flash. More than 25 news channels in one place. New to Flash? Try 1 month free. Offer ends October 31, 2022 >
Witnesses told WSVN that those affected had cuts to their arms and legs, with one person appearing to have a head injury.
"I've never seen water so turbulent," local resident Williams Scachte told the channel.
Another, Tim Carr, said he was "really shocked" by the dangerous conditions.
"It's kind of a perfect storm between high tides this month and I think the remnants of [Hurricane] Ian," Carr added.
Hurricane Ian hit Florida's Gulf Coast as a powerful Category 4 on Wednesday, killing at least 21 people, flooding homes and leaving nearly 2.7 million people without power.
In a town near Orlando, the system hit a cemetery with such force that coffins were pulled from underground and began floating, with at least one body seen in a broken coffin.
Some estimates put the cost of cleaning up Ian could be as high as $100 billion ($65 billion), ABC News reported, making it the most expensive storm in Florida history.
"We are only just beginning to see the scale of this destruction," US President Joe Biden said during a White House briefing on Friday.
"It will take months, years to rebuild. And our hearts go out to all those people whose lives have been absolutely devastated by the storm. America's heart is literally breaking.
Survivors in Fort Myers and Orlando have told news networks they were forced to swim to safety when their homes were flooded.
"[My neighbours] I grabbed my dogs, then I jumped out the window and swam," 42-year-old Janelle Thil told AFP.
Another woman, who lives in a caravan park in Fort Myers, told the BBC 'it was terrifying, because you're helpless', after being forced to wade through storm debris.
" We did not have [phone] service to call anyone – but no one would have come anyway," she said.
Florida Governor Ron DeSantis described his own shock yesterday after touring the city.
"To see a house just sitting in the middle of Estero Bay, it literally had to be picked up, stolen due to massive wind speeds and storm surge, and dropped into a body of water," said he declared.
"I would say the most extensive damage I've seen was in Fort Myers Beach, some homes were knocked out, some were just concrete slabs."
By the time it left Florida, Ian had weakened to a tropical storm, but re-emerged in the Atlantic Ocean as a Category 1, making landfall again at Georgetown between the major centers of Charleston and Myrtle Beach, with wind gusts of 140 km. /h.
A tornado warning has now been issued for five million people in North and South Carolina, as well as Virginia.
The storm is then expected to track inland, affecting much of the southeastern United States, and although it is poised to weaken as it moves over land , she will continue to pack a fierce punch.
– with AFP and the New York Post