GOP gubernatorial candidate strains in Ely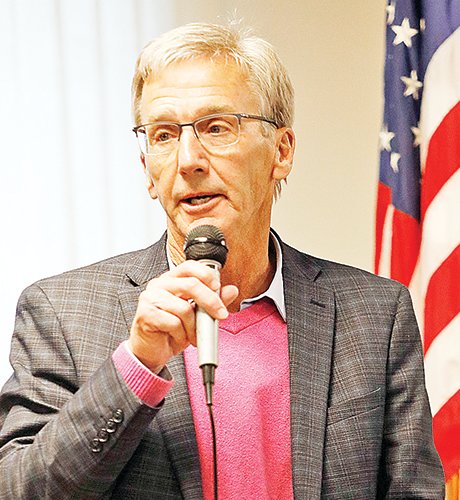 Keith Vandervort
ELY — One of many Republicans vying for Minnesota's gubernatorial seat addressed voters in Ely this week at a fundraising event hosted by the conservative Minnesota PAC.
Scott Jensen, seen as the GOP frontrunner seeking to defeat Gov. Tim Walz this fall, was joined by Kim Crockett, Republican nominee for Minnesota secretary of state, and Chad Walsh, nominee for Minnesota County sheriff. St. Louis.
The candidates spoke to a packed house at the Ely Senior Center on Monday evening. Nearly 100 people participated in an enthusiastic fundraising rally.
"Joe Biden never told me that, but I'm pretty sure one of his heroes is Forrest Gump," Jensen said. "Forrest Gump said, 'Stupid is also stupid,' and President Biden really took that to heart," Jensen said to laughter and applause from the partisan crowd.
Jensen, of Laketown Township, was born and raised in Sleepy Eye, graduated high school class valedictorian in 1973, earned an undergraduate degree in physiology, magna cum laude, from the University of Minnesota , then attended Luther Theological Seminary. He earned a medical degree from U de M in 1981.
A former state senator, Jensen topped a straw gubernatorial ballot held in the Republican compound caucuses earlier this year and joined at least eight other GOP candidates to contest the Aug. 9 primary to win a place on the ballot in the November general election.
"I'm going to follow my leadership example, whether you like it or not, of a man who did an incredible amount, and his name started with Donald and ended with Trump," Jensen said. "You know what, the guy was a leader. He may have done a better job with his Twitter account, but when it comes to Supreme Court Justices, he has three solid rocks. In politics, reducing regulation, economics, income tax in 2017, he picked up the pace. He told America that you were going to join, whether you wanted to or not.
Jensen went on to praise the twice-deposed CEO for his handling of NATO and NAFTA.
"We're going to speak truth to power no matter what pain or trouble I'm in, and let me tell you, I find ways to get in trouble. Just ask my mother-in-law," he added.
Jensen brought up several issues, including racism.
"We will rebel against stupidity," he said. "Stupidity is the critical theory of race. The stupidity is to say that everything your children do is because of the color of their skin. Everything you accomplish is due to the color of your skin. There is a far greater demand for racism than there is supply. We are not racist. Of course, we can do better. Don't call us a racist country. We're doing everything we can to be a land of opportunity, but we're not going to deliver equal results. It's up to you."
Jensen said that as governor he will speak on behalf of all Minnesotans, including unborn children and those "frail end-of-life people who have been forced to die alone because of bizarre COVID policies and senseless".
He said that because he refused to indicate death by COVID-19 for his patient who died of stage four colon cancer, he went "from being Minnesota's most famous family doctor in 2016 to that of the most studied doctor in the state. It was not an honor I aspired to, but I will wear it as a badge of courage, for I have done nothing wrong.
Public safety is also on Jensen's priority list.
"Without a doubt, there's a poison of anarchy spreading across the country, and it's not just in Minneapolis," he said. "There is a lack of respect for the police. The police are not the bad guys. We need to put more cops on the streets, but we need to do more than that. We need to go after the liberal judges and the Liberal prosecutors We know that catch and release can have some value for walleye, but it doesn't work very well for criminals.
In terms of education, Jensen said children should be funded rather than broken institutions.
"Let's not make the mistake of grouping teachers with teachers' unions, because it's not fair for teachers. Teachers don't get into teaching because they want to earn a six-figure salary. They get into teaching because they want to touch children's lives," he said.
In his prepared speech, Jensen did not address the issue of sulphide mining that continues to divide the Ely community, or reveal what he would do with a nearly $10 billion surplus. Near the end of his speech, Jensen laid out a plan for the issues he would tackle in the first 100 days in the governor's office:
• Rewrite emergency powers legislation;
• Pass three gun laws, including "hold your ground", "carry constitutional at age 18" and "castle doctrine";
• Student choice for education;
• Require photo ID to vote.
"When I was asked to come to Ely on a Monday night, I said I would be there," Jensen said. "We have to energize each other. We must electrify Minnesota. We have bear mamas and warrior dads, grandparents and activists across Minnesota who say they've had enough. That's why I'm here."
Other candidates rush for votes

Kim Crockett spoke to the Ely crowd about election integrity.
"We can only get change if we win the election," she said. "It used to be in America where liberals and conservatives could have a conversation and exchange information and ideas without condemning the other person," she said.
She seeks to overthrow Steve Simon, the current Minnesota Secretary of State.
"We are in our 16th year of a very partisan operation in the office of the secretary of state," she said. "This is an office that should be non-partisan in its approach. My goal, if I win, is that Democrats, Independents, Republicans, potty people, whatever, will say, "Crockett runs a clean store."
She is a consultant for a nonprofit organization called American Majority, "teaching people about election integrity, at home and abroad," and said the past 30 years as a corporate lawyer have led her to run for Secretary of State.
She asked the voters of Ely to help her.
"We all want to defeat Walz. We all want to defeat (State Attorney General Keith) Ellison. Everyone knows who they are, but how many of you didn't know the name of the Secretary of State until recently? " she asked.
"Democrats are really smart. They focus on the elections. We focus on the 'rah-rah' of campaigns, and that's why we lose again and again," she said, saying she's "not a politician but an outsider."
Crocket implored the public to sign up to be an election judge.
"Vote in person. Let's starve this chaotic and expensive mail-in voting system," she said.

Chad Walsh, candidate for St. Louis County Sheriff, was born and raised in Hermantown. He joined the US Army after high school. He served as a law enforcement officer in South Dakota.
He returned to northern Minnesota and started an indoor shooting range business.
"If you want to know where I stand on the Constitution, that's a clear factor here," he said. He also owns a septic business.
Walsh recently served with the Moose Lake Police Department.
"I realized how much I missed (law enforcement)," he said.
"The sheriff is elected by the people and answers directly to the people," he said. "Therefore, the sheriff does not answer to a mayor. The sheriff does not answer to the governor or the president, but directly to the citizens. This is why the sheriff is the most important person in your county. The sheriff has the power to stand up against all these other people.
He spoke about recent mandated COVID-19 public health protocols put in place by the state and federal government.
"If the government decides tomorrow that you can't go to church or you can't meet peacefully, is someone going to stand up for us the people?" He asked. "Where was our sheriff when the governor said you weren't allowed to go to church and you weren't allowed to assemble peacefully? We the people need to know that anyone in this position will stand up for us and our constitutional rights. Its very important.
Walsh would not say whether he is a Republican or a Democrat in his political position.
"I am an American citizen, my friend. It doesn't matter which side of the aisle you are on. We all live in America. We all want to feel safe," he said.
He said he was asked if he would make a good sheriff.
"Well, I watched all 290 episodes of The Andy Griffith Show, and I can tell you 90 of them were in color. I can't make a great sheriff on my own. The people behind you make a great sheriff, and the communities you protect.