CCTV captures renowned Nairobi businessman being kidnapped in broad daylight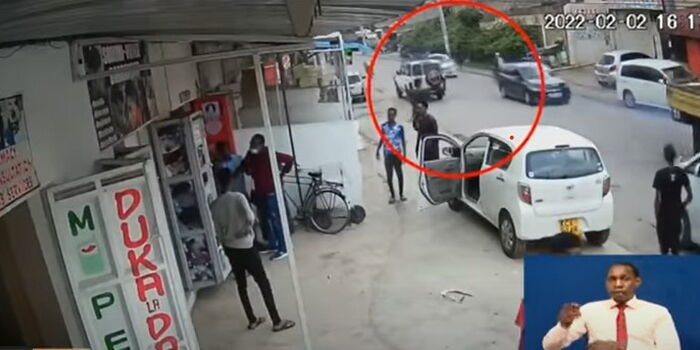 Police have opened investigations into the alleged abduction of a high-profile businessman captured by CCTV cameras at an estate in Nairobi.
According to footage obtained by HAKI Africa, the businessman identified as Roba Abduba Sereka is boarded a hardtop Landcruiser at gunpoint along Muhoho Road in the South C estate of Nairobi. The incident happened on Wednesday, February 2 at 10 a.m.
CCTV footage further shows the vehicle speeding away after locals and bystanders attempted to rescue it and find out who the kidnappers were.
Kamukunji police officers on patrol in Nairobi's CBD on Tuesday, January 25, 2022.
Twitter
NPS
According to the family, the 60-year-old had just left his home to run errands at the nearby Green Valley shopping center in the South C estate when he was accosted by gunmen in civilian clothes.
The matter was reported to Akila Police Station and then forwarded to Langata Police Station for further investigation.
"He left the house to run errands but after 20 minutes he called me to ask me to make him some tea. I waited until 12 noon assuming he had gone to the mosque. Around 14 hours, we worried because his phone was off." said one of his relatives.
The family have called on the government to speed up investigations into the whereabouts of the Marsabit-based businessman.
"If they have anything against him let them follow the right channels, but we want him released to us," said another family member.
The ordeal of kidnappings forced leaders in the pastoral region of Marsabit to intervene, describing the businessman as a prominent figure in that region.
Led by Marsabit Governor Mohamud Mohamed, the leaders called on law enforcement to make it clear where Abduba was.
"Roba must be brought to court if he is involved in a crime or suspected. Let him face the law, not the kidnappings," the governor of Marsabit said.
The same sentiments were echoed by the senator named Naomi Waqo who questioned whether law enforcement controls what happens in the country.
Langata Sub-County Police Commander Benjamin Mwathi confirmed to local media that the incident was under investigation.
Poster of missing businessman Roba Sereka shared by his family members
Courtesy
armed removal firearm thug suspect armed