A businessman triggers a bicycle gift | Across Indiana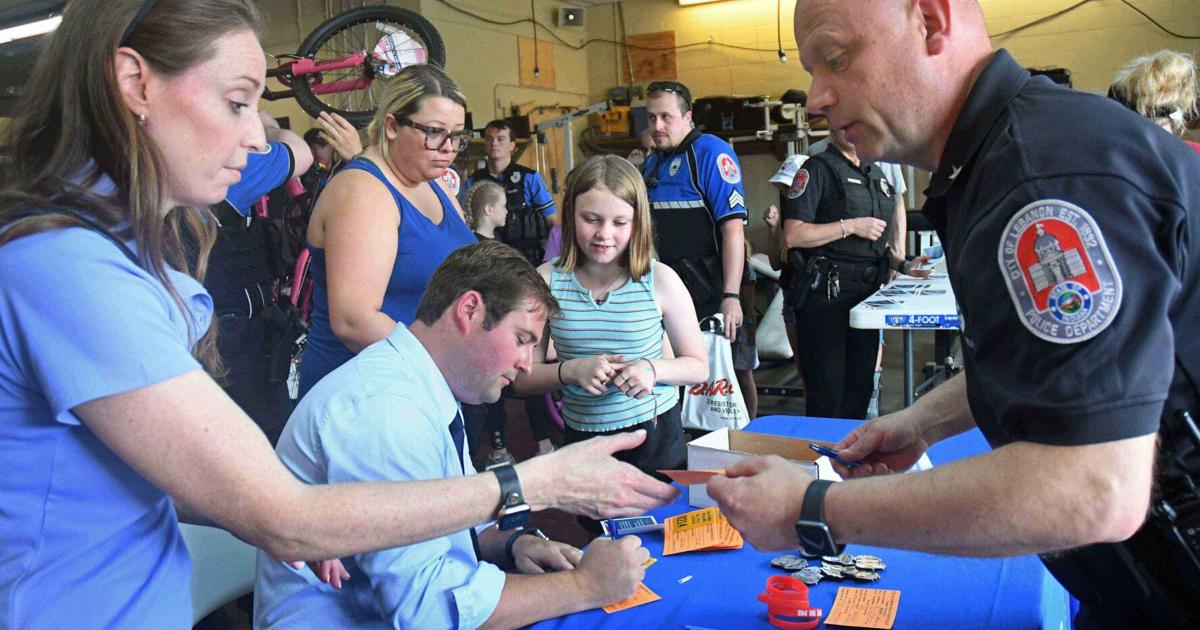 A Walmart bike sale turned into a boon for Lebanese children this week.
Businessman Josh Kammerer was shopping for diapers when he came across a winter bike sale. He bought 20 bicycles to give to Lebanese children.
"They were all lined up for $25 each," Kammerer said, adding he couldn't pass up the deal. Kammerer's father, Joe Kammerer, is a former Lebanese police officer and now owns a vault company. Josh called his dad to borrow one of the company's trucks and hauled them away from Walmart.
"Most people would just buy a bike for their kids, but he thought of all the kids in Lebanon," Lebanese police chief Chad Morgan said Wednesday as kids picked out their new bikes at the police department. .
Emberlynn Coyle, six, chose a purple and pink bike, while her sister, Lyllian Gregory, 10, was drawn to a bright pink. Ten-year-old Daniel Perez-Bautista chose a red, his favorite color, then changed his mind and opted for a sleek black. Bikes came in all sizes and colors. Some even came with training wheels.
Kammerer didn't know how to get the bikes into the hands of the kids who needed them, so he teamed up with school guidance counselors, Mental Health America and LPD to identify the kids who would get the bikes. But the list came in at 29 kids for 20 bikes. Aid organizations therefore provided nine additional bicycles and invited the children and their families to pick them up on Wednesday afternoon.
Daniel said he got a notice from his school this week and was excited the whole time until he could get it back.
Kammerer, police and other volunteers watched as the children picked out a bike one by one and carried their bikes to a table where Lebanon Mayor Matthew Gentry and Kammerer's wife Tanya checked in the bikes.
The police often find abandoned or stolen bicycles, especially in summer. Registration connects bikes to their owners, Morgan said. The city sells abandoned or stolen bikes when police cannot determine their owners.
"We encourage everyone to register their bikes with the city," Morgan said. Registration is open to anyone who visits the police station lobby.
Kammerer said he was shopping with his 9-year-old daughter, Sydney, the day he found the bikes. He grew up in Lebanon and was part of scout troop 359.
"Community service was part of the scouts, and I believe in community service and saw the bikes as an opportunity to share that with Sydney," Kammerer said. "I challenge other business owners in Lebanon to do something like this."
Sydney smiled broadly as she watched the children pick out bikes on Wednesday and said she enjoyed the experience.
Some of the children seemed a little nervous waiting their turn, but they were all smiles and volunteers sent them off with new wheels and a cupcake from Heather's Baked Treats, as owner Heather Ping also wanted to help when she heard the existence of the project.
Some children couldn't be at the police station to pick up their new bikes, so the police drove to their homes with their new rides after the event.
But, before leaving, Morgan read a card a mother left her when her child picked up a bike. She said that her family would never forget the kindness shown to them.